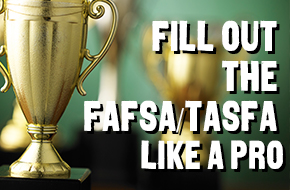 Created By:
 Texas GEAR UP
Audience:
 7th-12th-grade students, parents
Big Picture:
 Who knew filling out financial aid forms could be so confusing? There's a lot at stake and answering a question wrong could mean missing out on money for college—something no student should have to experience. So we handcrafted this oh-so-helpful guide that answers all the questions you never knew you had about financial aid, and even calls out some mistakes to avoid while you're filling out one of the most important financial forms for college. Because when it comes to free money, you can never be too careful.
How It Helps You:
 Take the guesswork out of filling out financial aid forms. This guide walks you through what you need to know in order to complete the FAFSA/TASFA and score the most money possible for school.
Protip:
 Because you'll need a lot of information from your parents while you're filling out these forms, it's probably not a bad idea to go over the info in the packet with them, as well. The more they know, the better they can prepare for what's to come.