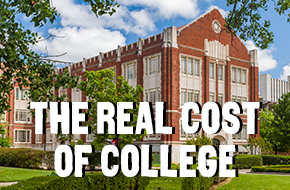 Created By:
 Texas GEAR UP
Audience:
 7th-12th-grade students, parents
Big Picture:
 Don't let the price tag of your favorite college fool you—the true cost of college is different for everyone. For real. This handy guide was created to help students like you understand the real price of college by examining what's included in the price (tuition and fees) and what's not (books and transportation). The guide also offers up tips and tricks to help lower the costs so you can start planning for your future today.
How It Helps You:
 When you know how much it really costs to go, you can be more prepared and proactive when it comes to saving money, getting scholarships, and applying for financial aid.
Protip:
 Chances are you're not alone on your college-prep journey, so grab your family when flipping through this packet. The more they know, the more they can help you achieve success.