Scientific Research and Design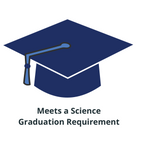 Scientific Research and Design is a broad-based course designed to allow districts and schools considerable flexibility to develop local curriculum to supplement any program of study or coherent sequence. The course has the components of any rigorous scientific or engineering program of study from the problem identification, investigation design, data collection, data analysis, formulation, and presentation of the conclusions. These components are integrated with the career and technical education emphasis of helping students gain entry-level employment in high-skill, high-wage jobs and/or continue their education.
This binder does not contain all lesson plans for this course. This content can be used with any textbook or instructional materials. If locally adapted, make sure all TEKS are covered.
Scope and Sequence
Unit 1: What is Science?
Unit 2: Laboratory and Field Investigations
Unit 3: Safety Precautions and Ethical Practices
Unit 4: Scientific Reasoning
Unit 5: Formulating Hypotheses
Unit 6: Analysis of Public Research
Unit 7: Investigative Designs
Unit 8: Data Examined
Unit 9: Filtering and Synthesis of Data
Unit 10: Presenting the Facts
Unit 11: Employability Skills